Zoom
Sale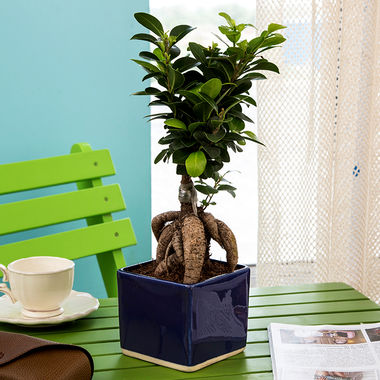 Exotic Green Semi Indoor 3 Year Old Grafted Ficus Bonsai Tree
Product Code:
EGB3DB_Blue
Availability:
In Stock
Delivery In:
2-4 Days
Caring Instructions:
A certain amount of yellow leaves on an Indoor Bonsai are completely normal, leaves on an evergreen tend to last about 3 months, then drop off and are replaced by new ones, about once a week or so go over your tree and remove any yellow leaves.
WATERING
In the summer fill a bowl with water at room temperature, deep enough to cover all of the soil in the pot. In the winter lightly top water your tree by pouring water over the soil when it feels really dry as they do not use as much water during the winter months. Water when the soil feels really dry and not before.
POSITIONING YOUR TREE
Your tree needs plenty of light (i.e. the brig htest window you have). Without enough light growth will be leggy. Any warm bright area will do, if there is only one light source, i.e. one window, turn your tree round once a week to get even growth. When you find a place your tree likes leave it there, you will know it's happy because it will grow many new shoots and flourish.
PRUNING YOUR TREE
Your tree needs pruning all year round, more so in the summer months. Cut off new shoots once they grow to about 3-4 inches long, prune between a leaves joint to maintain its original shape.
Grafting is an ancient plant technique that is used to improve the strength of a tree by introducing a better plant onto another one with stronger roots and trunk. Generally, one plant is selected for its roots and this is called the stock or rootstock. The other plant is selected for its stems, leaves and is called the scion or cion.It goes without saying that the older a tree, the more valuable it will become. By absorbing harmful gases like Xylene, toluene and Formaldehyde our bonsais work as air purifiers and great stress busters.
Grafted 3 years old Ficus-Micorcapa bonsais turn out to attain their beautiful unique shapes with time. Grafting Ficus as Scion and Microcarpa as Stock works very well because Ficus heal rapidly and grow vigorously so grafting is really quite successful. Grafted Ficus-Microcarpa 3 year's old bonsai is a combination of two different plants, Ficus and Microcarpa, joint together to increase the overall strength. These ideal green gifts will make your home/office a definitely a better place. Aside from the fact that these bonsai trees are very rare and beautiful to behold, they are scientifically proven as a great stress busters. There are different virtues or values that can be developed when growing a Bonsai such as patience, contentment, appreciation, gratefulness, creativity, and many others and of course they will add beauty and aesthetic to your life.
Packaging: We ensure a safe, technically designed packaging for delivering the plant. It is two layered, specially ventilated recyclable package which keeps the plant as well as the planter safe. We line the inner layer with polystyrene blocks which keeps the pot fixed and unmovable in transport.
Details
Plant Base
Coco Peat
Plant Color
Green
Plant Height
Above 7"
Pot Color
Blue
Pot Height
9 CMS
Pot Material
Ceramic
Pot Width
10 CMS
Write a review
Note:

HTML is not translated!