Zoom
Sale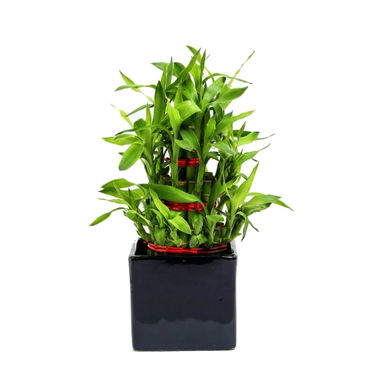 Exotic Green Feng Shui 3 Layer Bamboo Plant
Product Code:
EG3LBSC
Availability:
In Stock
Caring Instructions:
Put one Tea Cup of water immediately after unpacking your bamboo.
Change the water in the pot twice every week and make sure to use only fresh or RO water.
Don't over water or under water the plant. Ideally all roots should be submerged in water.
Keep it completely indoors and away from any amount of direct sunlight.
Jelly balls are kept inside the bowl for maintaining moisture only. You can keep it if you want.
Lucky bamboo plants make perfect gifts for any occasion and can symbolize ingredients to a happy life. The traditional symbolism stands for Wealth, Happiness and Longevity. The meaning of lucky bamboo plays an important role as a living example of the feng shui elements of water, wood and earth. When you place this plant in the correct pot, it can introduce fire and metal to complete a balance of the five elements. This plant is one of the most recognizable and popular feng shui cures. It's an easy care plant that can survive in any kind of light. Feng shui principles claim that bamboo attracts auspicious chi energy. Since the bamboo plant is strong, it can energize your home. The number of stalks determines the kinds of energy the plant attracts into your home and life. Always remember, the more stalks in the planter, the greater the blessing of good fortune and luck.
Three Bamboo Stalks The plant of three bamboo stalks is one of the most favorite number combinations to have in your home. It brings three kinds of luck to you:
Happiness: Fu Long
Life: Soh
Wealth: Lu (Career promotions)
This exotic plant comes in a beautiful studio pottery. Our pot is made from good quality clay to ensure durability and longevity. Also, this stylish pot can stand with a temperature up to 50 degrees.
Details
Plant Base
Water
Plant Color
Green
Plant Height
Above 4"
Pot Color
Black
Pot Diameter
10.5 CMS
Pot Height
9 CMS
Pot Lenght
9.5 CMS
Pot Material
Ceramic
Write a review
Note:

HTML is not translated!