Zoom
Sale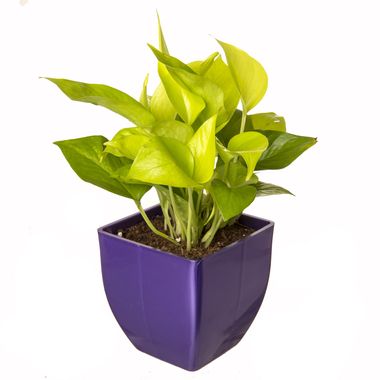 Exotic Green Oxygen & Air Purifier Indoor Plant Golden Pothose
Product Code:
EGGPCF_Purple
Availability:
In Stock
Golden Pothos are one most popular of all house plants. They are attractive, durable and easy to grow vines that have smooth, leathery, heart shaped leaves with distinctive marbling alternating along rope-like green stems. Pothos vines are among the top ten air purifying plants for indoor use. When grown in the ideal conditions in a greenhouse where there is very bright indirect light all day long, high humidity, and warm temperatures. Golden Pothos should be grown in a draft free spot with bright, indirect light and good ventilation. An hour or two of morning sun is acceptable, but full sun in the afternoon will cause the marbling of the foliage fade. Insufficient light will also cause the variegation to fade. Pothos plants grow very well under fluorescent lighting, especially grow-lights.
This exotic plant comes in a beautiful studio pottery. Our pot is made from good quality fiber to ensure durability and longevity. Also, this stylish pot can stand with a temperature up to 50 degrees.
Do's: • Ideally keep them at a place which gets 3-4 hours of morning/evening Indirect Sunlight. • DO the pruning of old leaves which turn yellow to avoid fungal attack. • DO check the coco peat before watering. A plant will use different amounts of water seasonally. Ideally water them every alternate day for roots to get optimum supply • Put manure every 6-8 months for better results.
Don't: • DON'T give them direct sunlight otherwise there leaves might get burn • DON'T overwater your plants. The most common cause of houseplant death is over watering • Avoid temperature shock for better growth.
Write a review
Note:

HTML is not translated!