Zoom
Sale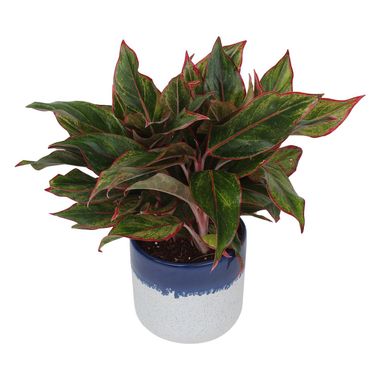 Exotic Green Indoor Plant Red Aglaonema in Pot
Product Code:
EGRARC_White & Blue
Availability:
In Stock
Delivery In:
2-4 Day.
Care Instruction-
Do's: Ideally keep them at a place which gets 3-4 hours of morning/evening Indirect Sunlight.
DO the pruning of old leaves which turn yellow to avoid fungal attack.
DO check the coco peat before watering. A plant will use different amounts of water seasonally. Ideally water them every alternate day for roots to get optimum supply.
Put manure every 6-8 months for better results.
Don't:
DON'T give them direct sunlight otherwise there leaves might get burn.
DON'T over water your plants. The most common cause of houseplant death is over watering.
Avoid temperature shock for better growth.
Red Aglaonema, also known as the Royal Treasure plant is considered to be one of the most beautiful ornamental house plants or office plants. One of the most easiest indoor plants, the Red Aglaonema is also one of the more stylish ones. This strikingly beautiful plant has dark green leaves elegantly flushed with shades of red or pink. It's colorful foliage makes it a perfect home decor accent. The tones of red and pink in its foliage make Reg Aglaonema a fun, attractive plant that looks gorgeous kept almost anywhere in your home or office be it a table top, side table, coffee table, bedroom, office desk or any other place you can think of. Happily, this beautiful plant is easy to care for and will live for years to come without losing its bright color bringing happiness always. It is also an air purifying plant helping you giving a space in which you can breather better and stress free.Its longevity, ease of growth and striking appearance are thought beneficial to the well being and financial success of the residents who grow it. It Emits high oxygen content, and purifies indoor air by removing chemicals, such as formaldehyde, benzene or other toxins.
Details
Plant Base
Coco Peat
Plant Color
Red
Plant Height
Above 12"
Pot Color
White & Blue
Pot Diameter
14 CMS
Pot Height
13.5 CMS
Pot Lenght
14 CMS
Pot Material
Ceramic
Write a review
Note:

HTML is not translated!