Zoom
Sale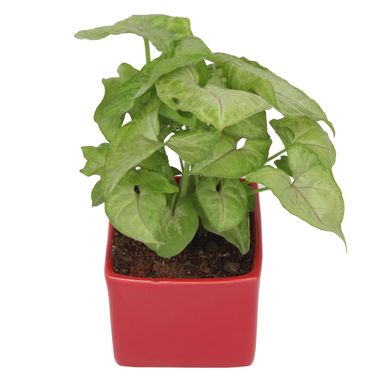 Exotic Green Indoor Plant Lemon Syngonium in Pot
Product Code:
EGSGCS_Red
Availability:
In Stock
Delivery In:
2-4 Days
Care Instruction-
Light : Bright light, but no direct sun. Can tolerate low light, but the leaves may lose their variegation. Turn pot in front of window regularly for even growth. The leaves of all Arrowhead plants are "bleached" and turn an ugly gray-green color when placed in the direct sun.
Water : Water well and then allow the top 50% of the soil dry out before watering again. An Arrowhead plant droops when it needs water, but perks up quickly. When over- watered, these plants develop root rot.
Fertilize : An Arrowhead plant every two weeks in the spring and summer when it is actively growing with a basic, liquid, houseplant food at 1/2 the recommended strength. Feed monthly in the fall and winter.
Humidity : Arrowhead plants prefer high humidity but still grow well in basic household humidity. Keep Arrowhead plants other indoor plants, away from hot air vents, air conditioners, and fireplaces.
Soil : Arrowhead plants like a rich organic soil that drains well. An African Violet mix is a good choice.
Lemon Syngonium plant is native to tropical Central and South America and is also known as nephthytis. Other common names are Arrowhead plant, Elephant Ear plant, Butterfly plant and Goosefoot plant. Syngonium are quite easy household growing plants. These plants have large white leaves with green edges. An unusual feature of Syngonium is the changing shape of its leaves, which are oval, becoming lobed as they mature. This pretty climber can be found growing in trees using its aerial roots to cling on to whatever it is climbing. Indoors, it will do well if it is trained up a moss pole from which it will also gather moisture of a vigorous grower it needs repotting often. As in its native habitat it needs a good humidity level so mist frequently by placing the pot over damp gravel or pebbles. There it has beautiful white flower as but these do not appear in the pot plant. As a house plants it will grow up to 4-5ft. And should last for several years.
Packaging: We ensure a safe, technically designed packaging for delivering the plant. It is two layered, specially ventilated recyclable package which keeps the plant as well as the planter safe. We line the inner layer with polystyrene blocks which keeps the pot fixed and unmovable in transport.
Details
Plant Base
Coco Peat
Plant Color
Lemon Green
Plant Height
Above 6"
Pot Color
Red
Pot Height
8.7 CMS
Pot Material
Ceramic
Pot Width
10 CMS
Write a review
Note:

HTML is not translated!