Zoom
Sale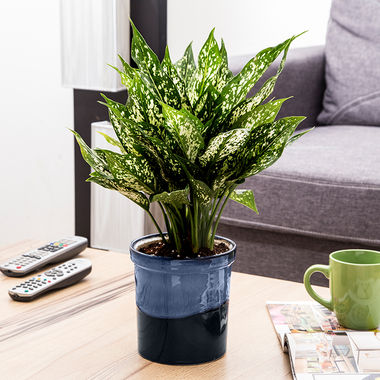 Exotic Green Indoor Plant Green Aglaonema in Pot
Product Code:
EGAGCC_Ocean Blue
Availability:
In Stock
Care Instruction-
Do's: Ideally keep them at a place which gets 3-4 hours of morning/evening Indirect Sunlight.
DO the pruning of old leaves which turn yellow to avoid fungal attack.
DO check the coco peat before watering. A plant will use different amounts of water seasonally. Ideally water them every alternate day for roots to get optimum supply.
Put manure every 6-8 months for better results.
Don't:
DON'T give them direct sunlight otherwise there leaves might get burn.
DON'T over water your plants. The most common cause of houseplant death is over watering.
Avoid temperature shock for better growth.
One of the most used interior landscape plants is the Aglaonema plant. The common name of the Aglaonema plant is Chinese evergreen and the Aglaonema is easy to care for and can be maintained at thelower light levelsoften found in the home or office environment. These plants have been grown as luck bringing ornamental plants in Asia for centuries. Their ability to live in low light conditions make them a popular houseplant. Aglaonema plants are versatile, rugged and can adapt to different settings. They have a compact, bushy habit with lots of stems and leaves emerging from the crown. The leaves are usually fairly large, long and pointed and come marked by various patters of green and off-white. Apart from its ornamental value, this easy to care for the plant also works as a wonderful air purifier helping filter various air pollutants and giving you a more inviting space to breathe in. The dual coloured lush foliage of the Green Aglaonema makes it a beautiful house plant and office plant that can decorate any corner.
Details
Plant Base
Coco Peat
Plant Color
Green
Plant Height
Above 12"
Pot Color
Ocean Blue
Pot Diameter
14 CMS
Pot Height
14.5 CMS
Pot Lenght
14.2 CMS
Pot Material
Ceramic
Write a review
Note:

HTML is not translated!