Zoom
Sale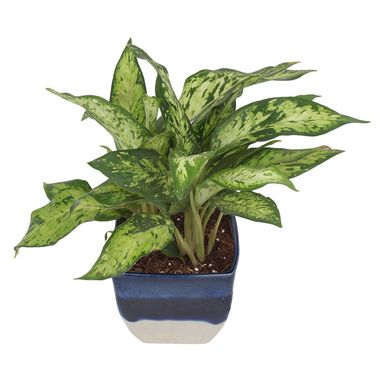 Exotic Green Indoor Oxygen Air Purifier Dwarf Green Aglonema Plant
Product Code:
EG_01
Availability:
In Stock
Delivery In:
2-4 Days
Caring Instructions:
Do's:
DO Ideally keep them at a place which gets 3-4 hours of morning/evening Indirect Sunlight.
DO the pruning of old leaves which turn yellow to avoid fungal attack.
DO check the coco peat before watering. A plant will use different amounts of water seasonally. Ideally water them every alternate day for roots to get optimum supply.
Put manure every 6-8 months for better results.
Don'ts:
DON'T give them direct sunlight otherwise there leaves might get burn.
DON'T overwater your plants. The most common cause of houseplant death is over watering.
Avoid temperature shock for better growth.
Dwarf Aglonema Green is plant well known for its attractive patterned and elliptical shaped leaves. Houseplants do so much more than beautify our homes. A NASA study has found that they also promote healthier lives by cleaning pollutants from the air. The foliage of indoor plants removes low levels of pollution, but interestingly, it is plant roots that remove air pollutants at higher concentrations. In addition to cleaning the air, adding houseplants to our indoor dcor increases a room's humidity, reducing the likelihood of respiratory sicknesses. The tropical plants we use as houseplants benefit us psychologically as well. Research has shown that just five minutes a day spent caring for plants reduces stress levels. Just the simple presence of plants can provide a sense of health and well-being. Dwarf Aglonema Green is plant well known for its attractive patterned and elliptical shaped leaves. The colors of hybrid variety can vary greatly between type with some foliage may be all green, cream with green borders or a mix between the two.
Packing : We ensure a safe , technically designed packaging for delivering the plant . It is two layered , specially ventilated recyclable package which keeps the plant as well as the planter safe. we line the inner layer with polystyrene blocks which keeps the pot fixed and unmovable in transport.
Details
Plant Base
Coco Peat
Plant Color
White & Green
Plant Height
Above 5"
Pot Color
White & Blue
Pot Height
9 CMS
Pot Lenght
9.5 CMS
Pot Material
Ceramic
Pot Width
10.5 CMS
Write a review
Note:

HTML is not translated!