Zoom
Sale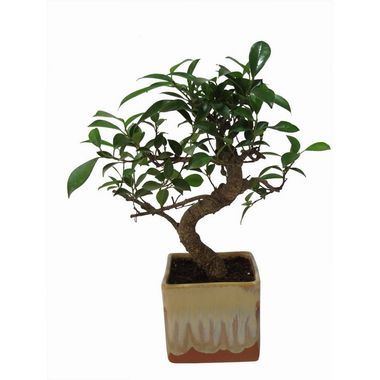 Exotic Green Alluring 3 Year Old "S" Shape Ficus Bonsai Plant
Product Code:
EGBS1DGB_German Brown
Availability:
In Stock
Exotic Green S Shape 3 year Ficus Bonsai Plant are commonly known for bringing peace, happiness, wealth and luxury to the area around. The S shape of this plant gives the look and feel of an old plant in a pot They are also known as the money plant and lucky plant. The thick, green leaves of this S- shaped ficus bonsai plant are giving it a beautiful appearance and making it a perfect home décor plant. This plant really looks splendid and has a magical charm.
This Exotic Plant Comes In A Beautiful Studio Pottery. Our Pot Is Made From Good Quality Ceramic To Ensure Durability And Longevity. Also, This Stylish Pot Can Stand With A Temperature Up To 40 Degrees.
Caring Instructions:
A certain amount of yellow leaves on an Indoor Bonsai are completely normal, leaves on an evergreen tend to last about 3 months, then drop off and are replaced by new ones, about once a week or so go over your tree and remove any yellow leaves.
WATERING
In the summer fill a bowl with water at room temperature, deep enough to cover all of the soil in the pot. In the winter lightly top water your tree by pouring water over the soil when it feels really dry as they do not use as much water during the winter months. Water when the soil feels really dry and not before.
POSITIONING YOUR TREE
Your tree needs plenty of light (i.e. the brig htest window you have). Without enough light growth will be leggy. Any warm bright area will do, if there is only one light source, i.e. one window, turn your tree round once a week to get even growth. When you find a place your tree likes leave it there, you will know it's happy because it will grow many new shoots and flourish.
PRUNING YOUR TREE
Your tree needs pruning all year round, more so in the summer months. Cut off new shoots once they grow to about 3-4 inches long, prune between a leaves joint to maintain its original shape.
Details
Plant Base
Coco Peat
Plant Color
Green
Plant Height
Above 15"
Pot Color
German Brown
Pot Diameter
10.5 CMS
Pot Height
p CMS
Pot Lenght
9.5 CMS
Pot Material
Ceramic
Write a review
Note:

HTML is not translated!