Zoom
Sale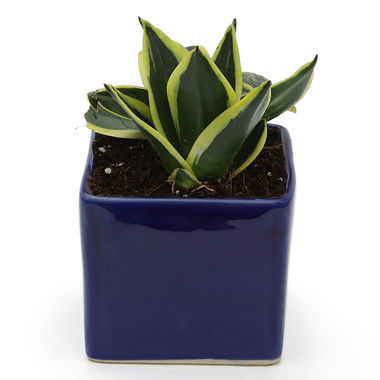 Exotic Green Indoor Oxygen & Air Purifier Plant MILT
Product Code:
EGMDB_Blue
Availability:
In Stock
Delivery In:
2-4 Days
Caring Instructions:
Snake plant has succulent leaves, it falls into the category of "set it and forget it" type of houseplants. It doesn't need much care, water, or light.
Light
Give your snake plant bright, indirect light if you want it to do well. While it can survive in low-light conditions, it will grow slower and have less color. A good spot for it would be about 3-6' away from a window that gets a lot of light.
Water
Keep soil lightly moist in the growing season. In winter, water just enough to prevent the soil from drying out. Take care not to water the center of the rosette of leaves because they'll rot easily if kept wet.
Humidity
Average room (around 40% relative humidity). Mother-in-law's tongue will tolerate dry air, but keep it away from air vents or drafts.
Temperature
Average room temperatures 60-75°F/16-24°C. It will tolerate fluctuatingtemperatures, but not extreme cold.
Repotting
Repot in the spring. Sansevieria are rapid growers and may need repotting or dividing annually. A well-grown sansevieria can split a clay pot with its mass of underground shoots. When repotting, alwaysuse fresh potting soil.
Sansevieria, or the Mother-in-Law's Tongue/Snake Plantas it's commonly known is a truly remarkable and striking easy care house plant. It belongs to the family Asparagaceae, native to the tropics of West Africa. It's an ever increasingly popular indoor plant and much of this has to do with its near indestructible qualities. NASA lists the Sansiviera Plant as an excellent clean air plant. This plant is one of the best for filtering out formaldehyde, which is common in cleaning products, toilet paper, tissues and personal care products. This beautiful double colored plant in a snowy white glossy rectangular tray makes a striking piece of nature for your homes and offices. An attractive gift for all occasions. Apart from its attractive appeal, it also purifies the air making our spaces more inviting, cleaner and helping us breathe better. It's bold and clutter free lines make it very popular and one of the plants of choice for architecture and interior design, especially in view of its reputation as an improver of indoor air quality.
This exotic plant comes in a beautiful studio pottery. Our pot is made from good quality clay to ensure durability and longevity. Also, this stylish pot can stand with a temperature up to 50 degrees.
Details
Plant Base
Coco Peat
Plant Color
Green
Plant Height
Above 4"
Pot Color
Blue
Pot Diameter
10.5 CMS
Pot Height
9 CMS
Pot Lenght
9.5 CMS
Pot Material
Ceramic
Write a review
Note:

HTML is not translated!